Almost every food item available in stores comes from a commercial food facility. These facilities prepare, produce, and process various types of food items for sale across the country. Facilities are dedicated to specific foods, from meat and poultry to dairy items, each with a different setup and equipment. Different facilities have different requirements for the food they produce, but they all have one thing in common: floor drainage systems and drain strainers.
FLOOR DRAINS IN COMMERCIAL FACILITIES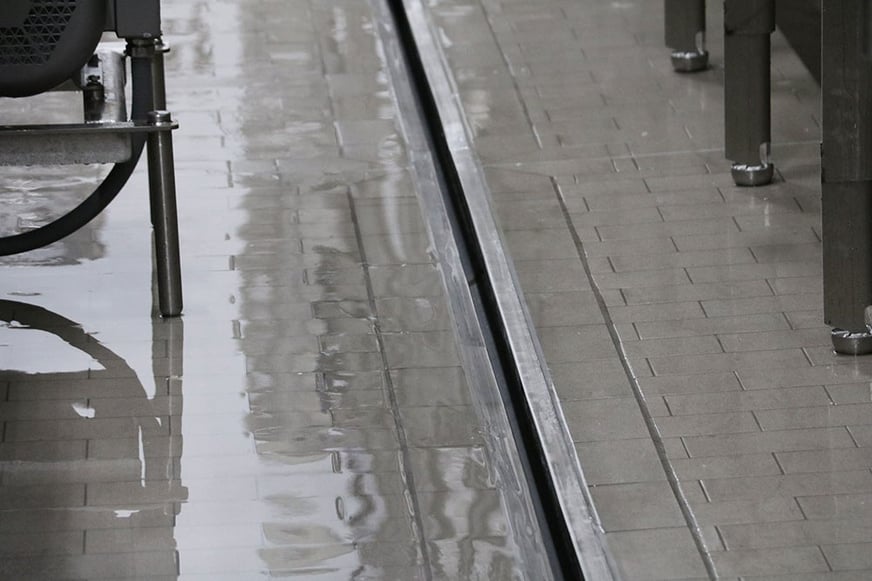 Proper floor drainage is an essential part of any commercial food facility. Floor drainage systems help to maintain safe and sanitary facilities by keeping the floors free from wastewater. They take wastewater off the floor surface and divert it to a designated outlet for treatment.
Drainage systems are vital for many reasons. They help ensure there is no standing water inside a facility, which can lead to numerous issues. Wastewater is a significant slipping hazard for employees and can lead to serious injuries. Standing water also provides the perfect environment for bacteria like e.Coli to grow. Once bacteria takes root, it can spread as employees move about the facility, dragging it around on their shoes or equipment wheels.
Floor drainage is also vital for ensuring that facilities do not develop foul odors from the food waste they produce during production. Finally, without floor drainage solutions in place, there is an increased chance of insect and other pest infestations, which can also lead to bacteria and contamination.
FoodSafe Drains makes some of the best drainage options designed for the food processing industry. There are two popular systems including the Trench Drain, and the more modern Slot Drain System. For these systems to work at their best, you also need a commercial floor drain strainer.
THE ROLE OF A FLOOR DRAIN STRAINER BASKET
Floor drains are designed to keep large solids out of the drain channel, however, smaller solids like food by-products and pieces of packaging can still get through. Debris can become problematic if it enters the drain, potentially clogging the system and preventing it from functioning correctly. If the system gets clogged, wastewater cannot flow through to the end outlet and it will eventually overflow, creating severe sanitation issues. It will also slow down production, as you must stop to clean the system and the facility floors thoroughly. That is where a floor drain strainer basket comes in; these baskets are crucial to the function of drainage systems.
A floor drain strainer is an additional piece for floor drainage systems that is designed to catch debris while allowing the wastewater to continue through the system.
FOODSAFE FLOOR DRAIN STRAINERS
FoodSafe Drains doesn't only provide floor drain systems; you can also find the right floor drain strainer as well. Multiple options are available to ensure your facility has the right system and strainer basket to meet your needs.