Meat processing facilities face enormous risk when it comes to bacterial growth and contamination, as well as pests such as flies and other insects. This is why inspectors follow fairly ruthless guidelines. When public safety, as well as the safety of your workers, is at stake, there's no room for error.
While the following may seem like common sense to some, these are some of the most important things to look after in your meat processing facility, whether or not an inspector is looking.
Refrigeration and frozen storage
Raw meat and seafood are considered "hazardous" foods, which means they're prone to bacterial growth such as listeria, E. coli, salmonella, and more. The best way to prevent these bacteria from accumulating is refrigeration.
Guidelines require refrigeration units to be at 39°F (4°C) or colder, and freezer units must be at 0°F (-18°C) or colder in order to inhibit the growth of these illness-causing pathogens.Ensure all of your in-unit thermometers are working properly and that the equipment you use to perform checks is calibrated properly at all times.
Cooking and hot holding
If you prepare or cook meat and seafood products in your facility, there are also minimum temperature requirements you must meet, and all of your cooking equipment and holding units will be thoroughly checked by inspectors.
Cooked foods will need to show internal temperatures of at least 165°F (74°C), and up to 180°F (82°C) or hotter for whole poultry products. If not being frozen or chilled to be shipped, these meats and seafood will need to be reheated to 165°F within 2 hours.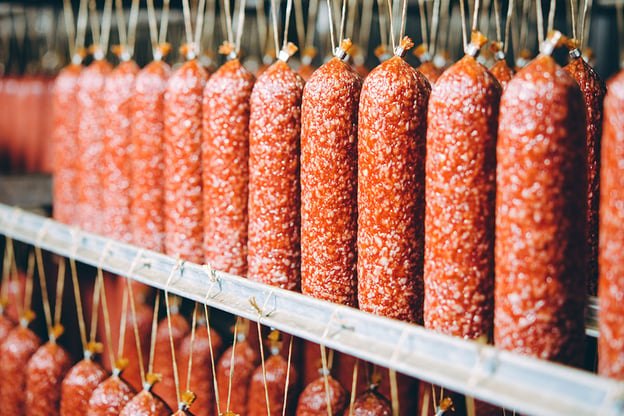 Food handler hygiene
Proper personal hygiene is incredibly important in your meat or seafood processing facility. Hand-washing is an absolute must, and workers must be using the appropriate utensils and tools to handle all food.
It is, therefore, the facility manager and operator's responsibility to ensure that there are sufficient hand-wash stations (based on the size of your facility) and that these stations are fully equipped with antibacterial soap and hand sanitizers, as well as a paper towel.
Workers' uniforms must remain as clean as possible, and the utensils they use must be clean and free of defects that may provide places for bacteria to harbor and accumulate. These utensils (tongs, spoons, knives, etc.) must be able to be washed on-site to ensure that they remain clean from wash to use.
Protecting food from contamination
Raw foods should never be anywhere near cooked or finished food products. This seems obvious, but goes further than the foods actually coming into contact with each other. Workers who may be moving throughout your facility will need to decontaminate their hands, change their clothing if necessary (change out their apron, at the very least, if one is worn), and even change their footwear depending on how high the risks of cross contamination are.
Keeping food contaminant-free also extends to ensuring that cleaning chemicals are never stored near raw or prepared food products, and that other chemicals and pesticides are not only kept away from food, but away from cleaning chemicals as well.
A constant supply of both hot and cold water should be readily available as well, so add it to your own regular inspections to make sure an inspector doesn't catch something you didn't see.
Proper food facility drainage
Whether you're building a brand new meat processing or production facility or need to upgrade your current operation, your drainage should be a key consideration. Treat your drains like you would any other piece of equipment in your food processing facility. It is, after all, the most-used aspect of your operation.
Carefully consider your production floor drainage, and don't forget about your refrigeration units or warm holding units as well (area drains work best in these!). Without proper drainage, bacteria, pests, and other pathogens can build up and contaminate everything from raw meat and seafood to fully cooked product.
At FoodSafe Drains, we like to look at your whole facility and suggest drainage solutions based on the amount of risk in a given area. This way, we can determine whether a slot drain or a trench drain system makes more sense.
Questions?
If you have questions about your meat processing facility's drainage, contact one of our experts today, and we'll help you discover sanitary, safe drainage options that will help you avoid failed inspections in the future