The rules established by the FDA and USDA cover a wide range of topics, the most important of which include food safety and sanitation.
These regulations are in place to protect the health and well-being of consumers, workers, and the products made within food processing facilities. Without these protections, there could be serious health and safety issues, up to and including recalls and other consequences.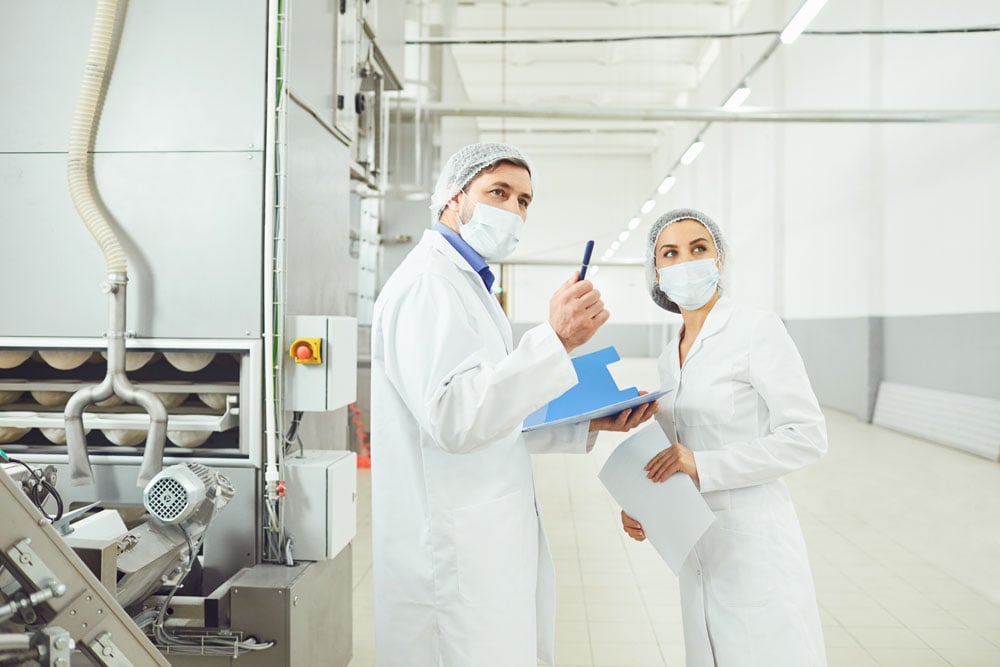 Here are six ways to improve your facility in order to meet and exceed sanitation requirements.
WHAT IS FOOD PLANT SANITATION?
Food plant sanitation refers to the thorough cleaning and sanitation process within a facility. The purpose of food sanitation requirements is to ensure that every facility meets the federal guidelines for cleanliness in order to prevent the spread of disease and contamination.
Everything related to sanitation and safety is covered by these requirements: employee hygiene, proper product handling, safe food preparation, and diligently cleaning the facility.
WHY IS SANITATION IMPORTANT?
Without proper sanitation, food plants cannot legally function and manufacture products. Proper sanitation means that the facility is fully clean where necessary, significantly reducing the risk of bacteria and other harmful pathogens from lingering and contaminating products.
Any contamination could then lead to consumption of spoiled products, which could result in illness and death for consumers, as well as recalls and fines for food manufacturers, as well as a severe lapse in public trust.
FOOD SANITATION REQUIREMENTS
The FDA and USDA establish the food safety and sanitation requirements for food processing facilities in the United States. These regulations are strict, and every detail must be understood and carefully implemented.
The consequences of not meeting these food safety requirements go far beyond the legal and financial possibilities. Should a facility fail to meet the federal safety and sanitation guidelines, it can ruin, if not destroy, a company's reputation.
To prevent this, here are six sanitation requirements that food processing facilities should follow to improve their facility.
1. PROPER TRAINING
Employee training is essential for any food processing facility to function correctly. Training should cover a wide range of topics, from job responsibilities to handling potential facility issues. Some of the more critical parts of training revolve around food safety and sanitation.
Ensuring that all food preparation employees are fully aware of and understand cleaning procedures, sanitizing equipment, personal hygiene, proper food storage, safe food handling, and pest control is critical. Without thorough training, employees can overlook aspects of safety and sanitation, putting everyone at serious risk.
2. ENFORCEMENT OF SANITATION RULES
Training employees is critical, and so are the rules you create for your employees to follow. All facilities should have strict safety and sanitation rules and guidelines for their employees to follow, with all expectations made clear.
Rules should cover every aspect of sanitation within the facility, including personal hygiene expectations. Beyond maintaining a clean facility, employees need to observe proper personal hygiene habits, including bathing, washing hands, keeping uniforms clean, and much more. Lacking personal hygiene can lead to product contamination, rendering facility cleaning futile.
Food processing facilities must require all employees and visitors to wear sanitary protective clothing on the production floor, including hairnets, shoe covers, gloves, and masks if necessary.
There should also be a rule concerning handwashing, with employees required to wash their hands thoroughly each time they enter or leave the production area or touch raw products, especially meats and other raw animal products.
Sick employees should not be permitted to work until they have made a full recovery. Otherwise, they risk spreading their illness to other employees and contaminating products.
3. SANITIZATION OF EQUIPMENT AND TOOLS
Food facility tools and equipment continuously come into contact with employees and products, including raw products known for potentially carrying bacteria such as listeria, E.coli, and salmonella which are all very serious.
These pathogens can live on metal surfaces, such as production tables and slicers, for days, increasing the chance for accumulation and contamination. Even visibly clean surfaces may not actually be properly bacteria-free, which is why it's vital to follow up on all cleaning procedures with sanitization procedures, using approved chemicals and methods that have been proven to remove, kill, and/or prevent bacteria from growing.
4. HANDLING, STORING, AND TRANSPORTATION OF GOODS
Whether it is raw ingredients or a finished food product, how it's handled, stored, and transported can impact quality and safety for both workers and end consumers.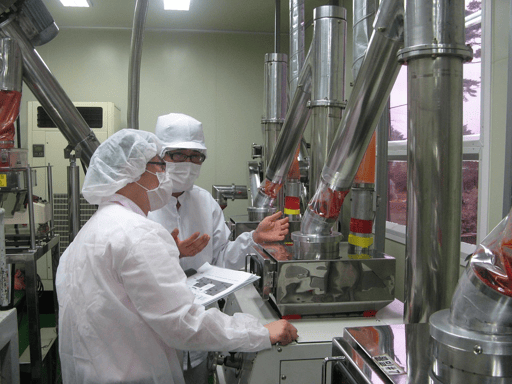 Things like the temperature, humidity level, and mode of transportation all play a role in how products get handled, stored, and transported. The FDA and USDA address each of these things, helping to keep all food products safe for consumption and free from bacteria and other harm.
It is also vital that processing facilities are inspected thoroughly and regularly to ensure that everything remains in accordance with regulations.
5. HAVE THE RIGHT DRAINAGE SYSTEM IN PLACE
A proper drain system, like the Slot Drain system, is essential in order to keep facilities clean, dry, and to significantly reduce the chance of bacterial contamination.
70% of positive listeria screens are found in a facility's drainage, which is why it is absolutely imperative that the system be able to keep up with every aspect of production and cleaning procedures.
Slot Drain features a unique, grate-free design and FDA-approved stainless steel construction. Stainless steel is incredibly durable, as well as temperature-, corrosion-, and bacteria-resistant. The industrial-strength Slot Drain models can handle heavy loads up to Load Class F, depending on the model, which allows for heavy forklifts to pass over them without damage.
ADA-compliant models offer more safety for carts and employees passing over them, eliminating the risk of tripping and falling.
6. PEST CONTROL
If you do not maintain a clean and sanitary facility, you will begin attracting insects and rodents. This may in turn lead to the spread of bacteria, disease, and other contamination caused by pets.
Preventing pests from invading the facility involves proper cleaning and sanitizing, and various measures that include monitoring, detection, and preventative steps to ensure that the facility remains safe and free from pests.
Whether pests are present or not, traps should be strategically placed throughout the facility and checked frequently. It's generally best to hire a professional exterminator or pest control expert to handle this for you.
MAINTAINING FOOD SAFETY AND SANITATION
Food safety and proper food plant sanitation are the two most critical aspects of a food processing facility. They involve specific food sanitation requirements set out by the FDA and USDA, which must be followed under strict penalty. These two aspects are incredibly important, but many others go hand in hand with them to help create a clean, safe, and functional facility.
From ensuring proper training to having a reliable drainage system, everything plays a role in proper sanitation. Without these measures, facilities would struggle with bacteria and contamination issues, which can have wide-reaching consequences.
Questions?
For more information on food facility sanitation, particularly regarding the ideal drainage system for your operation, contact a FoodSafe Drains drainage expert today. We can offer insight and advice to help protect your entire facility from the follies of poor drainage.