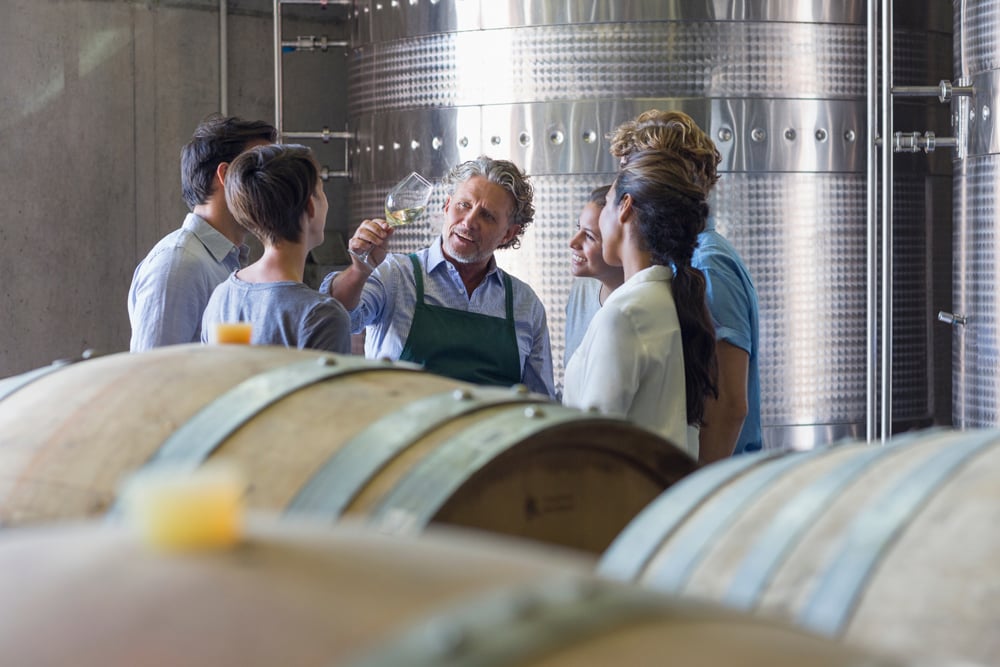 A tasting room is an area in a winery that is specifically designated for customers to have the opportunity to sample various wines. Tasting rooms can be on-site at the winery or at an offsite location and can be big or small. Bigger tasting rooms can also double as event spaces, host wedding receptions, corporate events, or other social gatherings.
CREATING THE RIGHT WINE TASTING ROOM DESIGN
Wine tasting rooms are a reflection of your brand. Customers should not only feel welcomed to the space, but they should be able to get a feel for your brand and what you stand for. Here are some tips to help with the tasting room design process:
1. MAKE IT INVITING
Your tasting room should be a welcoming space that encourages visitors to sit for a tasting and maybe stay awhile to enjoy a conversation. There should be different seating options, rather than just a bar, which could make them feel rushed.
2. LET THE SPACE REFLECT YOUR WINE
Your tasting room should reflect your style in the colors, layout, and overall feel. Consider these details carefully to create the perfect design for your space. Bold colors can represent bold wines; brick walls can represent a long history; get creative with the possibilities.
3. WORK WITH THE ENVIRONMENT—NOT AGAINST IT
Take advantage of the unique details of where you are for your wine tasting room design. You should embrace the location; wineries in valleys can create outdoor spaces for visitors to enjoy during warmer weather. More urban wineries can highlight industrial details to make themselves stand out.
DESIGN IDEA INSPIRATION
With endless design possibilities, here are some wine tasting room design ideas to help you get started on the perfect tasting room design:
LET THE AGE OF THE WALLS SHOW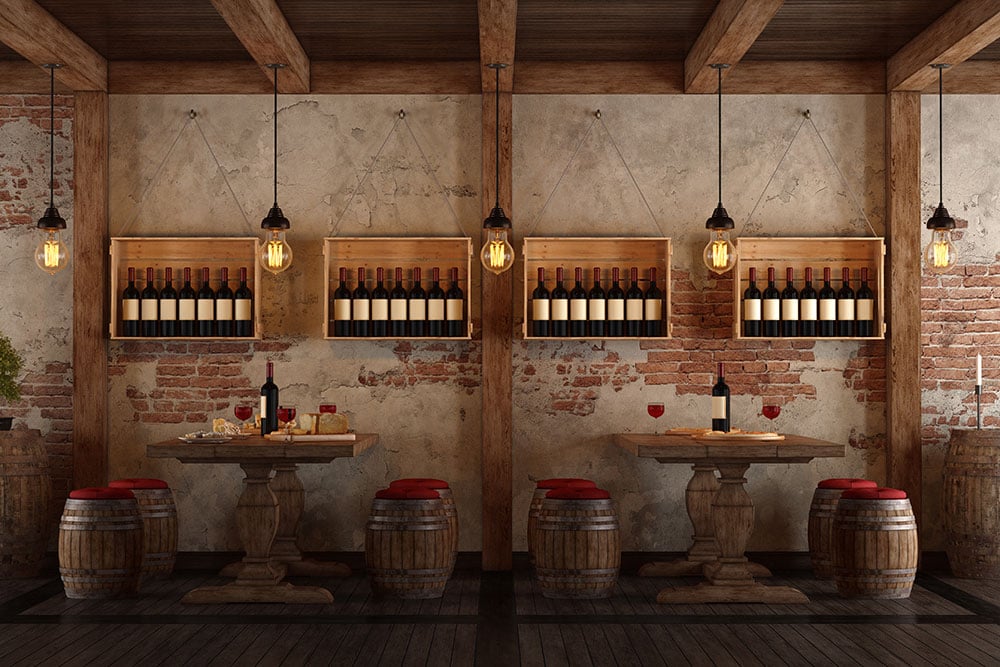 If the building of your tasting room is older, consider letting some of the features show. Instead of covering the walls, the winery pictured above embraced the aged look of the walls and exposed brick. Adding beams helps to create the feel of a European cellar without making it uncomfortable or too dark.
MAKE THE SPACE MOODY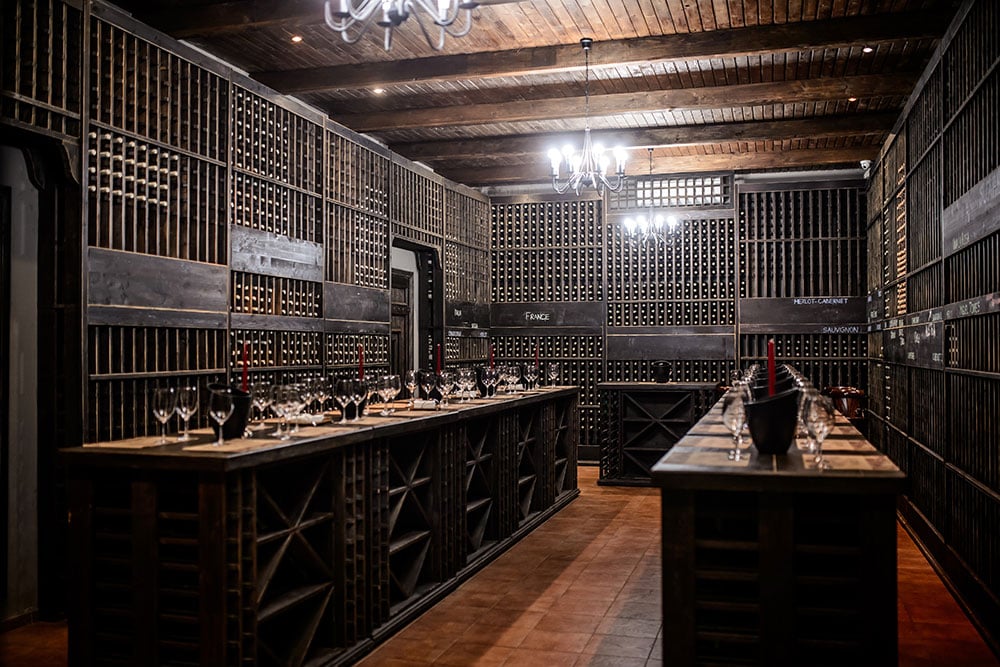 If you are looking to create an air of mystery, consider something like the design above. This winery has their wines on display behind iron doors, with long tables for tasting parties. The dark colors of the wood and iron, combined with the low lighting, create a mysterious and moody atmosphere.
PROVIDE COMFORTABLE SEATING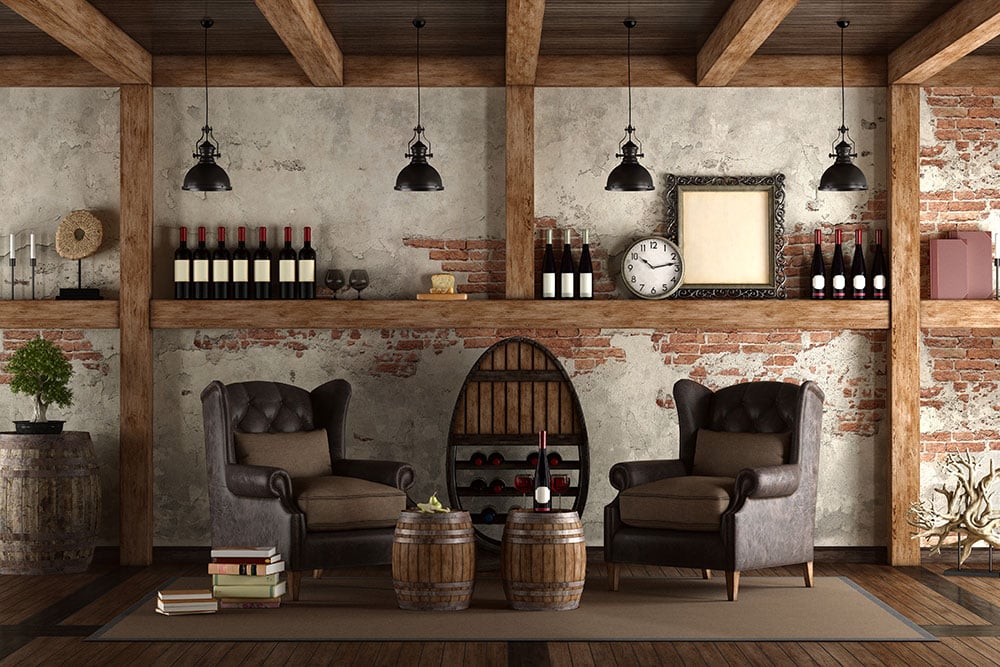 One thing to remember with wine tasting room design ideas is comfort. Visitors should have different options of where to sit. The tasting room above has a light, airy feel with old-world charm and comfortable armchairs that complement the overall look and feel.
KEEP IT BRIGHT AND AIRY
Tasting rooms don't have to have low lighting or brick-lined walls. Instead, you can create a bright, airy space with lots of light. This design style is great for wineries with beautiful views, like a valley. The tasting room above has many windows, to allow plenty of natural light in, and it uses rich, warm colors.
HAVE FAMILY-SIZE TABLES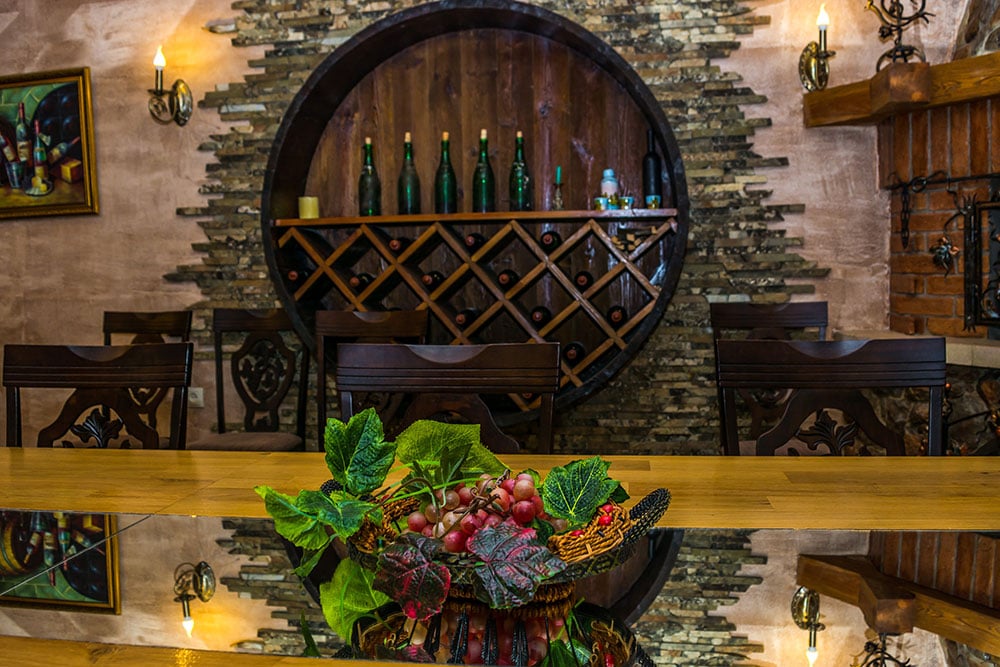 Wine tasting can be a great opportunity to make new friends. This winery highlights that, with a big table that can fit many people. Tables like this also allow larger events to happen in the tasting room, like weddings and other social gatherings.
COMBINE DESIGN STYLES
Another idea for tasting room designs is to combine design styles. The one above is very open, with lots of light wood and natural light. It adds some industrial touches with metal bars above the serving area and industrial-style lights.
TAKE IT TO THE BARRELS
Barrels are an iconic part of winemaking, and many wineries incorporate them into their designs. Instead of using barrels as seating or tables for this winery, they put the tasting area directly in the barrel room. Aged walls, tables, and chairs help add to the overall look and feel of the room, to create something unique.
MAKE IT INTIMATE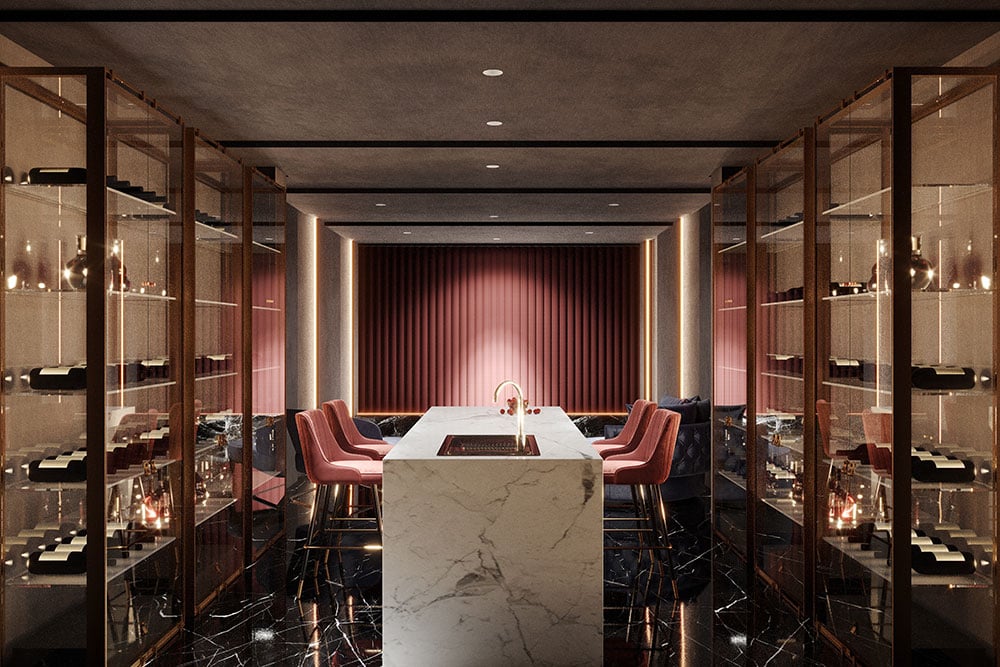 The tasting room above exemplifies the idea of creating an intimate tasting area with a more luxurious feel. There is a marble waterfall table in the middle of the room, with wine bottles displayed in glass-enclosed cabinets. The low lighting and warm colors add to the overall intimate feel of the space.
PROTECT YOUR TASTING ROOM WITH FLOOR DRAINAGE
Having the perfect wine tasting room design is only part of the equation. You also need to protect your tasting room with drainage to help clean up spills, prevent bacteria growth, and maintain a safe and sanitary space. FoodSafe Drains is a company that focuses on creating reliable food-safe drainage systems. They offer systems like:
6000 PLUS SERIES SLOT DRAIN
The FoodSafe 6000 PLUS Series Slot Drain is a great choice for wine-tasting rooms. The 6000 PLUS Series drains are NSF certified (NSF 3A 14159-1), making them perfect for high-traffic food and beverage facilities. Complete with a CIP (clean-in-place) system, the 6000 PLUS Series offers powerful drainage in an elegant and functional setup.
THE 10,000 SERIES SLOT DRAIN
The FoodSafe Slot Drain is a new take on the traditional trench drain. It uses the same T304 and T316 stainless steel, to ensure a durable, heavy-duty build. Unlike its counterpart, Slot Drain has a thin channel and doesn't require a grate cover, allowing it to virtually disappear against the ground. Flow rates for the Slot Drain go up to 27 GPM per foot of drain.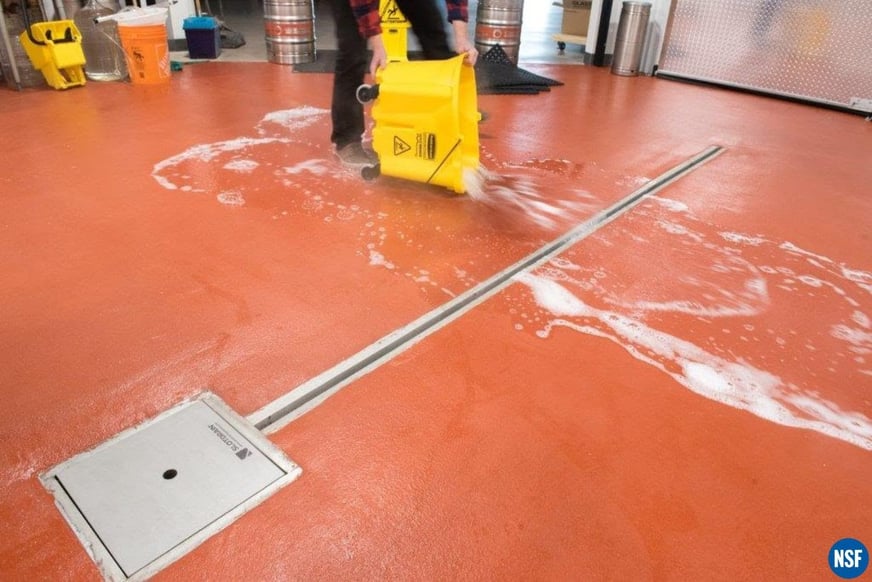 Both options are easy to maintain and are compatible with clean-in-place technology.
CREATE TASTING ROOMS WITH STYLE
You should create a tasting room that makes you proud as a winery owner. The wine-tasting room design should reflect your style, brand, and mission as much as possible.
The wine tasting room design ideas above are just some of the amazing possibilities for a tasting room. Take the time and consider what makes your wine unique and what stands out about your location, and you'll create a design that is all your own. Don't forget to add floor drainage to protect your design and keep your space clean and sanitary.
Contact the experts at FoodSafe Drains today to learn more about the different options available for tasting rooms.